Pastochef 32 RTL
Electronic Pasteurizing Machines for Confectionery and Gastronomy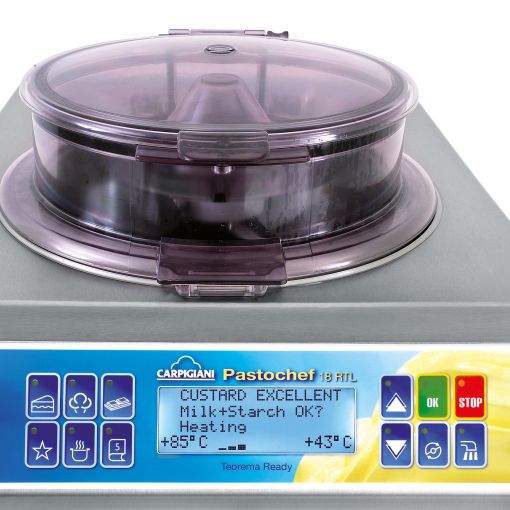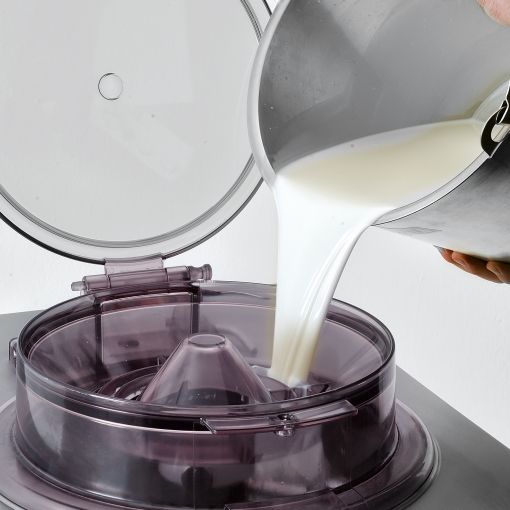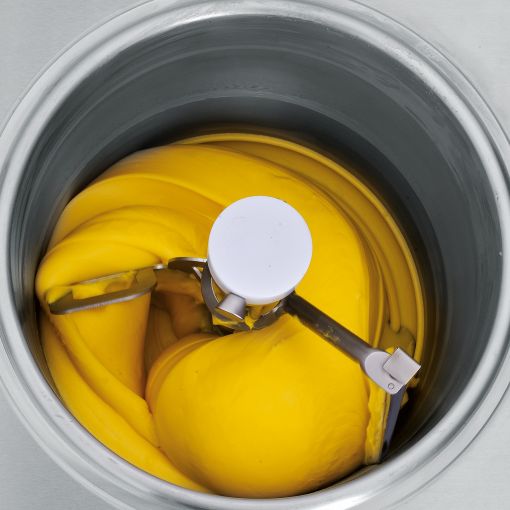 Pastochef RTL machines mix, cook, pasteurize, cool, and store creams, mixes, Bavarian creams, sauces, and other specialties for pastry, gelato, and savory dishes.
Pastochef RTL machines have 45 full automatic programmes and 5 free programmes; each programme includes the typical temperatures and suitable mixes for the product being made, which can be changed to suit specific needs. The large display screen contains helpful suggestions for progressively adding ingredients.
Pastochef RTL machines are a fundamental aid when it comes to using automation to prepare recipes that usually require a great deal of time and manual work. These pasteurizing machines contain the very latest Carpigiani technology for certain results and maximum practical use:
- Heating and Cooling with dry bain-marie with no build up and therefore, constant power consumption and performance over time. •
- Beater with 8 different mixing systems, from slow to fast, continuous to at intervals, to mix together every type of ingredient.
- Extraction spigot with dual safety device, which after each extraction returns the product to the hopper for correct storage.
Extraction tap: one dispensing position for liquid products and one for dense products.
Lid: double with a large hopper to comfortably add ingredients while the mixing is active, working in complete safety.
Shelf: in steel with a rubber mat. It can be attached in three different positions and secured to the machine right side up or upside down to support containers and trays of various sizes.
Recipe book: supplied with the machine.
Carpigiani Pastochef machines allow you to do your job easily and to save time, all with perfect hygiene.
Extraction tap: opens after unlocking the safety valve with one hand.
Transparent protection: to contain the hot splashes of product being dispensed.
Blackout and water supply cutoff: based on time and temperature parameters, the machine checks if the mix has suffered an alteration or not and if necessary starts a new pasteurization cycle.
Optional Teorema: monitoring and diagnosis via the internet for easier assistance.
Total cleaning: The tap can be completely disassembled, washed, and inspected to guarantee maximum machine hygiene.
Carpi Care kit: request one from your dealer to keep your machine hygienically perfect.
Production
in 2 hours lt
30
Quantity per cycle | Programs
Chocolate | max. kg
25
Chocolate | min. kg
7,5
Custard | max. kg
30
Custard | min. kg
15
Electrical
Condenser
Water**
Hz
50*
Ph
3*
Volt
400*
Fuse Size A
10
Rated Power Input kW
4
Dimensions
Dimension at base Depth cm
71,6
Dimension at base Height cm
111
Dimension at base Width cm
65,8
Net Weight kg
198
Note
Note
The hourly production rate varies according to the ingredients used. Production rates refer to an ambient temperature of 25°C and a water temperature of 20°C in the condenser. * Other voltages and cycles are available with additional charge ** Air-cooled versions available with additional charge The above dimensions and weight refer to the water cooled version. The Pastochef RTL machines are made by Carpigiani according to a Certified Quality System UNI EN ISO 9001. All specifications mentioned must be considered approximate; Carpigiani reserves the right to modify, without notice, all parts deemed necessary.
Related Accessories and Optionals