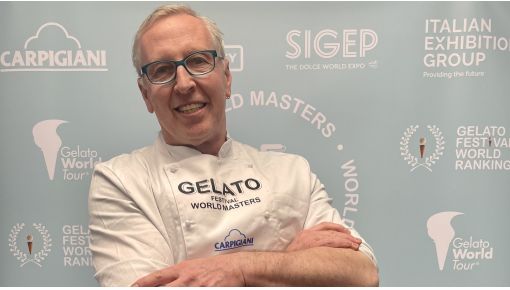 The gelato artisans will go on to the next step of the Gelato Festival World Masters, the world championship in search of the best gelato flavors in the 5 continents
Carpigiani is proud to announce the top three winners of its second North America gelato challenge, held on March 1st at Cool King Headquarters in Mississauga, Canada.
The top three winners, and their winning flavors, are:
• First place: James Coleridge of Gelato by James in Vancouver with the flavor "Hickory Smoked Maple Pecan";
Description: A hickory smoked maple pecan blended with Amarena Italian cherries with a hint sour and finish of Canadian sea salts.
• Second place: Kaya Ogruce of Death in Venice in Toronto with the flavor "Bread and Butter";
Description: Sourdough bread gelato with brown butter and bread ash crumbs;
• Third place: Gisella Zomparelli Chung of Gelato North in North York with the flavor "Yuzu Ricotta Cheesecake";
Description: Fresh citrus zing of yuzu married with creamy ricotta and mascarpone, topped off with a cookie crunch.
The Toronto gelato challenge is the second stage out of four North America regional gelato challenges to be held in 2023 as part of the Gelato Festival World Masters. Three winners from each of the regional challenges will advance to the North American semi-finals to be held in Los Angeles in September 2023. The Gelato Festival World Masters, sponsored by Carpigiani and Sigep – Italian Exhibition Group, is holding a four-year series of competitions to find the world's best gelato. Over the 2022-2025 time period, a series of regional competitions will be held, with the final global competition to be held in 2025 in Italy.
The gelato creations are judged on the choice of ingredients used, technical structure, craftsmanship in creating the recipe and visual impact. At each competition, the gelati will be judged by a panel of esteemed judges. Judges for the Gelato challenge in Mississauga were:
• Annie Chu, Food writer and founder of the blog Chu on This
• Joel Solish, Food expert and founder of iamnevernoteating.com
• Jaclyn Irwin, Certified Nutritional Practitioner and CEO at Holistic Foodie
• Marco Saladini, Italian Trade Commissioner
• Giorgio Tinelli, Italian Trade Commissioner
The Gelato Festival debuted in Florence, Italy, in 2010, and soon expanded throughout Italy and the rest of Europe. The first North American challenge was held Colorado in 2017. After more than 80 regional festivals and more than 3,500 gelato artisans participating, the winner of the most recent Gelato Festival was Ádám Fazekas of Budapest, Hungary, with his Frutta di Pistacchio (Pistachio Fruit) gelato in 2021.
Other contestants in the North American challenge were:
• Hurbert Kumaasi of Bliss Gelato in Stoney Creek with the flavor "Almond Magic";
• Daniella Zomparelli of Lola's Gelato in Etobicoke with the flavor "Summer Fling";
• Jade Lalonde of On Third Thought in Toronto with the flavor "Grandma's Rum Punch";
• Daniel Curren of Tatamagouche Ice Creamery in Nova Scotia with the flavor "Bourbon Coffe with caramel swirl";
• Shelley Westgarth of Belly Ice Cream in Huntsville with the flavor "Pineapple Upside Down Cake";
• Parry Sohi of Nani Gelato in Toronto with the flavor "FBI: Full Blown Italian";
• Ruben Rapetti of Spaccio Toronto in Toronto with the flavor "Wild Berries Stracciatella";
• Chantelle Heeney-Mallard of Mallard's Milk Bar in Arnprior with the flavor "Newfoundland Sea Salt with Haskap Swirl";
• Paolo Di Lallo of Mizzica Gelato in Toronto with the flavor "Bocconotto Abruzzese";
• Salvatore Guarna of I Love Gelato in Burlington with the flavor "Bronzati";
• Erica Giuliani of La Looney Moo Gelato & Dolcetti in Etobicoke with the flavor "Fudgy Roman Turtle";
• Tatjana Mitrovic of Joy Foods in Ottawa with the flavor "Ice Passion";
• Stefania Pede of Cocoa 40 in Newmarket with the flavor "Firecracker";
• Erin Allen of Mio Gelato in Kingston with the flavor "Hazelnut with candied beet ripple";
• Gabriele Di Marco of Oretta in Toronto with the flavor "Sapori di Sicilia".