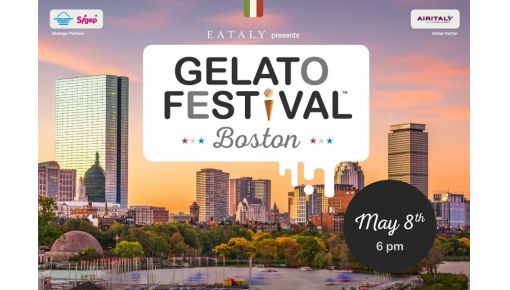 All the gelato you can eat in one day, made by the best, saturday & sunday, June 1st & 2nd
Boston, MA (May 7th) – Besides the gut excitement for all the gelato you can eat, Bostonians can appreciate the historical significance of a Gelato Festival presented by Eataly Boston. The world of artisanal Italian frozen dessert is dropping into Boston, a city steeped in United States history, with deep Italian roots and a love of Italian food. Eataly Boston, located within the Prudential Center, is the perfect staging ground for the passion passed down from Bernardo Buontalenti, who first created gelato in 15th century Florence. The Gelato Festival has worked to share Buontalenti's discovery with the world for ten years and GFA will proudly visit Boston for the first time ever, June 1st and 2nd: from 11am until 7pm each day.
The Gelato Festival is considered the most authoritative event in the world dedicated to gelato - all'italiana. Organized in collaboration with Carpigiani and Sigep – Italian Exhibition Group, the Gelato Festival spreads knowledge and enjoyment of real Italian artisanal gelato through a contest in which gelato artisans and chefs compete with original gelato flavors for the gold medal by Florentine goldsmith Paolo Penko. Following the Boston stage, Gelato Festival America will hold events in Chicago, Washington, D.C. and West Hollywood along the 2019 tour. Air Italy is the Global Partner of Gelato Festival.
​
Gabriele Poli, Founder & President of Gelato Festival explains, "After the huge success all over Europe, and our first two editions of the Gelato Festival in the USA in 2017 & 2018 and the premiere final in Miami, it is a fact — Americans really do love gelato! It is our goal to make certain that every American gets to taste what real Italian gelato is like and to spread the culture of artisanal Italian gelato throughout the world's largest consumer market for frozen desserts, focusing on the higher quality of this product compared to all others. Together, with the best gelato industry players, we will help artisans and chefs succeed in the United States market. We look forward to exposing Boston to the concept of all-the-gelato-you-can-eat."
A wristband entitles you to all the gelato you can eat while participating in all the Festival activities, as well as cast a vote for your favorite gelato flavor and the chef who created it. The winner will continue the journey towards the Gelato Festival World Masters in Italy. Stock up on these rare gelatos, made specially for the unique history and people of Boston, and stay cool all summer long.
Gelato Festival America 2019 visits five cities:
(COMPLETED) March 16-17 in Miami, FL*
Brickell City Centre
700 Brickell Avenue (between 7th & 8th Street) | Miami, FL 33131
(NEXT UP!) June 1-2 in Boston*
Boylston Plaza
800 Boylston St | Boston, MA 02199
August 17-18 in Chicago*
W Taylor St
1301 West Taylor St | Chicago, IL 60607
September 7-8 in Washington D.C.
City Market at O
800 P Street Northwest | Washington, DC 20001
September 28-29 in West Hollywood*
Pacific Design Center
8687 Melrose Avenue | West Hollywood, CA 90069
*new locations
Two years ago, 50 gelato chefs competed with unique gelato flavors to produce over 13,500 pounds of gelato to the delight of over 40,000 visitors and 150 gelato professionals who were present at the Festival in 2017. With the growth of Gelato Festival America, over 100,000 people attended the 2018 edition. Gelato Festival America 2019 is the most exciting edition yet, featuring 4 all-new locations and an award-winning roster of gelato chefs. To download high-res pictures of Gelato Festival America, please click here
ABOUT ITALIAN GELATO
When visiting amazing, culturally rich cities like Florence and Rome, there is one treat sold on almost every corner — authentic Italian gelato. Gelato's heritage dates all the way back to 1559, in the Italian Renaissance, when the Medici family commissioned famous artist and architect Bernardo Buontalenti to prepare an opulent feast for the visiting king of Spain. For the special occasion, Buontalenti created a new frozen dessert, made from a few simple ingredients such as milk, eggs and honey. And thus the first gelato was created, and Buontalenti is now heralded as the inventor of this creamy Italian dessert. To discover more about the history of gelato visit the Gelato Museum (gelatomuseum.com) in Bologna.
Americans often wonder what the difference is between ice cream and gelato. The main difference is texture! The gelato's lighter texture comes from using more milk than cream, which also means less fat and fewer calories. It is stored at warmer temperatures, increasing the richness of the flavors and ensuring a smooth texture.
ABOUT THE GELATO FESTIVAL
The mission of Gelato Festival America is to spread the culture of artisan Italian gelato in the US. Originating in Florence, Italy, Gelato Festival is an all-star lineup of the biggest names in gelato artistry competing against one another with a one-time flavor they have created just for the festival.
​
Flavia Morelli, group brand manager of the Food & Beverage Division of Italian Exhibition Group (IEG), says, "SIGEP is IEG's leading international expo for artisan Gelato, Pastry, Bakery and the coffee world. With Gelato Festival, it is the key player, along with other partners, of a project that promotes, also in the USA, a supply chain targeting innovation and export, but rooted in an unbeatable tradition as far as product quality and flavor are concerned. The diffusion of Italian-made artisan gelato is already widespread also in the United States and is borne out by the offer of over 1,000 sales outlets, with a turnover that we are confident will exceed 500 million dollars in 2020. This business will be present at SIGEP, which is held annually at Rimini Expo Centre (from 18th to 22nd January in 2020), undisputedly one of the key events worldwide for sweet food service. SIGEP is a powerhouse of ideas for increasing the entire sector's business."
Eataly's premium location, expertise and its finest interpretation of Italian cultural cuisine provide the perfect setting for the Gelato Festival. Eataly Boston is a vibrant Italian marketplace that features an array of cafes, counters, restaurants, and a cooking school, where guests are encouraged to eat, shop, and learn.