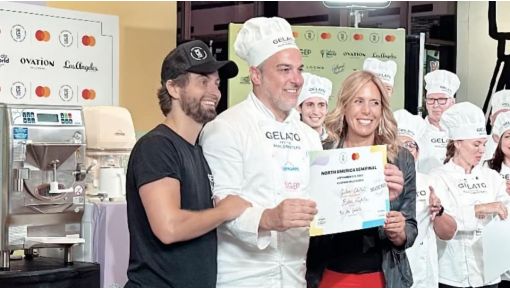 Gelato Festival World Masters Awards Golan Chetrit of NYC's Noi Due Gelato Title of 'Best Flavor North America 2023'
Events
USA
Gelato Festival
Chetrit is Among Five Semifinalists Named to Compete in North American Finals in 2025
Gelato Festival World Masters, the most prestigious gelato tournament in the world, held the North America Semifinals over Labor Day weekend in Los Angeles at Ovation Hollywood and is thrilled to announce, along with strategic partners Carpigiani and Sigep - Italian Exhibition Group, and media partner Los Angeles Magazine, that Golan Chetrit of NYC's Noi Due Gelato took top prize as Best Flavor North America 2023 for his "Halva Nagila" gelato (halva gelato with tahini, date syrup & roasted crispy rice).

As part of a series of competitions in over 22 countries, Golan Chetrit competed alongside 11 fellow gelato masters from across the US and Canada on September 2nd and 3rd vying for spots to compete in North America Finals in 2025 where each gelato chef was judged by both a technical panel of renowned culinary professionals including Sally Camacho Mueller of Curtis Stone Events, Mattia Agazzi of Gucci Osteria da Massimo Bottura Beverly Hills, and Rob Gentile of Stella West Hollywood as well as by festival attendees.

Golan Chetrit and four other semifinalists will now go on to the North American Finals in 2025 for a chance to compete in the World Finals in Italy.
For two days attendees experienced a gelato-centric festival and competition featuring an exciting lineup of activities and attractions, including live demonstrations by gelato artisans, interactive gelato tastings and workshops, and tastings of the 12 gelatos in competition.

North America Semifinalists that will go to the North America Finals in 2025 are:
1. Golan Chetrit of Noi Due Gelato (NYC) with the flavor "Halva Nagila"
2. Gabriele di Marco of Oretta Restaurant (Toronto, ON) with the flavor "Sapori di Sicilia"
3. Maria Liliana Biondo of uGOgelato (Cincinnati, OH) with the flavor "Mandorland"
4. Melanie Wolf of Pompelmo Gelateria (Westerly, RI) with the flavor "Taste The Tropics"
5. Giuseppe Lollino of Vero Coffee & Gelato (Franklin Park, IL) with the flavor "Tribute to Setteveli"

Special Mention Technical Jury
1. Simona Vacca of Il Gusto (West Covina, CA) with the flavor "Saffron Rosegarden"

People's Choice Flavor:
1. Francia Michelle Magsaysay of Francy's Artisanal Ice Cream (Bergenfield, NJ) with the flavor "Purple yam and cheese with craquantes"
2. Lauren Brock of Butterfat Gelato (Pittsburgh, PA) with the flavor "Carrot Cake"

ABOUT GELATO FESTIVAL
The Gelato Festival World Masters is an international event dedicated to artisanal gelato. Founded in 2010 in Florence, Italy, it has evolved into one of the most important events in the gelato industry, and is the world's premiere gelato tournament attracting millions of visitors worldwide. The Gelato Festival World Masters brings together gelato artisans, offers educational opportunities, and promotes the culture and excellence of Italian gelato. The competition covers a four-year period and in each edition within, competitors are selected through hundreds of events on five continents. Since 2010 the festival has run 13 consecutive editions with more than 100 festivals open to the public in over 20 countries, including Italy, and across Europe, The United States, and Japan. Each year more than 1,000 competing Gelato Masters have joined this momentous event that brings international awareness to the beloved artisanal cold dessert invented in the Renaissance by Bernardo Buontalenti.

Gelato Festival World Masters, founded by Gabriele Poli in Florence, Italy over a decade ago, has resulted in a world class brand of gelato, aptly named Gelato Festival. Gelato Festival brings the best of the best flavors from around the globe which are sold to major hospitality groups in America, at local retailers, online and at their popular flagship store located at Ovation Hollywood, in Los Angeles.

*Gelato Festival World Masters thanks its sponsors: Silikomart, Loacker, W Hollywood Hotel, Loews Hotel, Hollywood Roosevelt Hotel, Hospitality Multiple, Alcas, Clover Sonoma, Chefs Warehouse, Sogno Toscano, Truffle Brothers, WorldWide Produce, Italy-America Chamber of Commerce West and institutional partner Toscana Promozione.

*Gelato Festival World Masters was organized under the patronage of ITA - Italian Trade Agency and under the patronage of the Consulate General of Italy in Los Angeles.