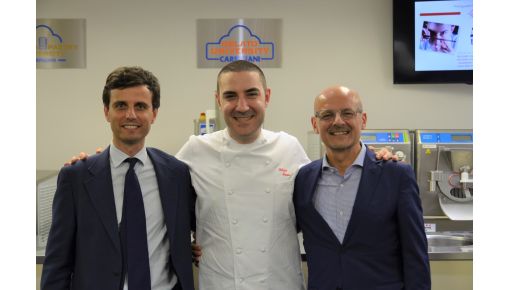 The Carpigiani Gastronomy Gelato University project will start in September 2019
September 2019 will see the launch of the Gastronomy Gelato University of Carpigiani Japan, conceived specifically for hotels and restaurants. With the slogan "Add gelato to your menu," this project aims to analyze new trends in haute cuisine and offers new tools for creating gelato recipes to be included within the service, taking into account the needs of modern kitchens.
To inaugurate the school, a seminar by Fabrizio Fiorani, Asia's Best Pastry chef in 2019, was presented to the public of professionals and trade press. His innovative contemporary desserts were applauded by all!
The first course for restaurant chefs will be held on September 25th at the headquarters of Carpigiani Japan in Tokyo and will be taught by Gianpaolo Valli, instructor at Carpigiani Gelato University.
"The concept of so-called gastronomic or savory gelato has been part of the gelato world and foodservice for at least a few decades in Italy. Many gelato makers have begun to experiment with alternative recipes, and at the same time the most creative starred chefs have begun to add gelato to their main dishes," notes Lorenzo Scrimizzi, director of Carpigiani Japan. "Success in this field lies not only in the originality of the gelato itself, but even more in the ability of its creator – whether it be a chef or a gelato artisan – to balance it perfectly. A great gelato can be made using virtually any ingredient, but the balancing of the recipe is what makes the difference. As we did in 2015 for the launch of Carpigiani Gelato Pastry University, we developed this new concept to ensure the best educational tools for those customers who want to experience the fusion of gelato and international haute cuisine."