Pastomaster 60 HE
Intelligent Technology that takes special care of your mix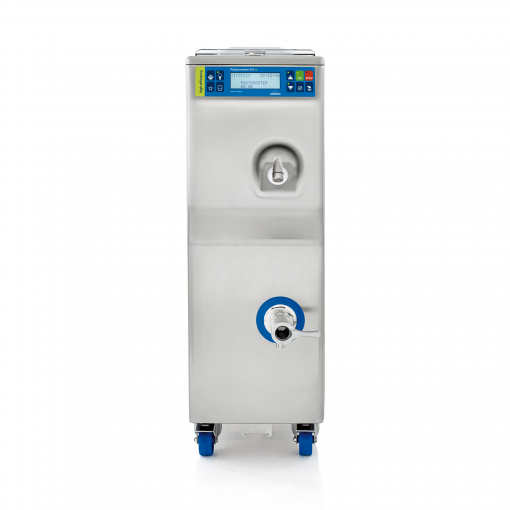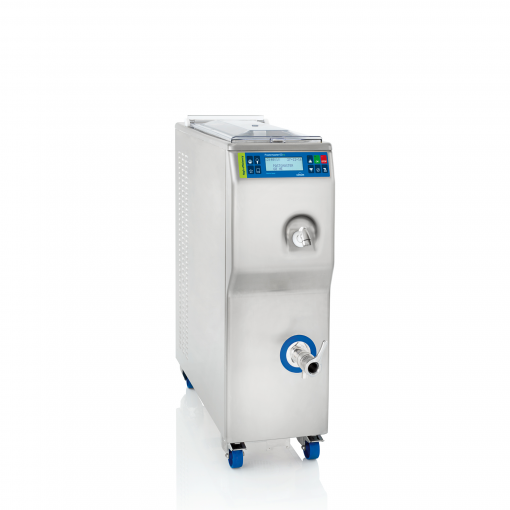 Thanks to the adaptive exchanger pump, the Pastomaster HE has intelligent technology that takes special care of your mix.
It highly micronizes fat globules down to a fine size of 2-5 microns, creating a base for a more creamy gelato.
Its one-piece exchange pump allows for maximum hygiene even with raw milk. The extractable conveyor allows for handling mixes with different viscosities.
11 fundamental programs to produce all types of basic and complete gelato mixes and yogurt, 5 free programs.
Pastomaster 60 HE models only: 7 sauces to create gelato flavors together with the basic mixes, 6 artisanal specialties to
offer in your gelato parlor.
The one-piece exchanger pump with "dry bain-marie," a Carpigiani patent, guarantees: High micronization of fat globules to a fine size of 2-5 microns for creamy gelato and allows working even with minimal batches without the risk of
burning the mix.
Pastomaster 60 HE only: Boosted conveyor for viscous blends, optional High Power to save up to 20% on heating times compared to the standard version without increasing total energy consumption.
Lid and exchanger pump: you can introduce ingredients while the mix is being stirred, working in complete safety.
Optional conveyor for the processing of raw milk.
Hose bracket: Bracket to house the water connection pipes so that they remain lifted off the ground.
Optional Bucket shelf.
Optional Water Filling: function to dispense the precise quantity of water required by the recipe and for cleaning, saving time and avoiding quantity errors.
High Efficiency technology, equipped with high-efficiency motors and high-performance condensers, providing maximum
efficiency during pasteurization of the mixes. Pastomaster HE ensures generous savings in water consumption, up to 30%
compared to RTX pasteurizers.
Lid: When the mix is hotter than 50°C, stirring stops when you lift the lid to avoid splashes of hot liquids.
Ergonomic design: thanks to rounded corners.
Optional Teorema: monitoring and diagnosis via the internet for easier assistance.
Blackout and Water supply cutoff: based on time and temperature parameters, the machine checks if the mix has suffered an alteration or not and if necessary starts a new pasteurization cycle.
Temperature-controlled spigot: the mix circulates continuously inside the tap, ensuring its correct operating temperature.
Total cleanliness thanks to the new tap, the detachable conveyor, the one-piece cup and the Scotch-Brite treatment of the
sheet metal.
Stainless steel sprayer extends to the tap to facilitate cleaning.
Stainless steel wheels
Carpi Care kit: request one from your dealer to keep your machine hygienically perfect.
Technical Characteristics
Motor speed for beater no
7
Tank Capacity
max. lt
60
min. lt
15
Production
lt/min
60 / 120*
Quantity per cycle | Programs
Sauce production | max. kg
45**
Sauce production | min. kg
15**
Specialty production | max. kg
45
Specialty production | min. kg
15
Yogurt production | max. kg
45
Yogurt production | min. kg
15
Electrical
Condenser
Water
Hz
50***
Ph
3***
Volt
400***
Fuse Size A
16
Nominal Power kW
7
Dimensions
Dimension at base Depth cm
90
Dimension at base Height cm
105
Dimension at base Width cm
35
Net Weight kg
165
Note
Note
* Hourly production rates vary according to the ingredients used. ** For the cocoa sauce the maximum quantity allowed is 15 kg. Production rates refer to a room temperature of 25°C and a water temperature of 20°C in the condenser. *** Other voltages and cycles are available with surcharge. The above dimensions and weight refer to the water cooled version. The Pastomaster HE machines are made by Carpigiani according to a Certified Quality System UNI EN ISO 9001. All specifications mentioned must be considered approximate. Carpigiani reserves the right to modify, without notice, all parts deemed necessary.