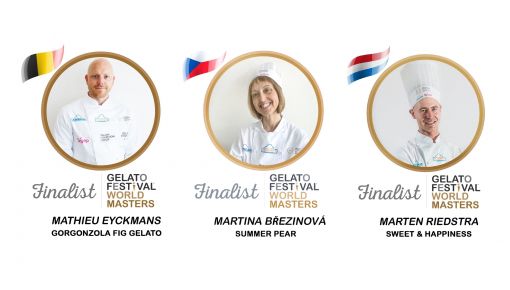 Mathieu Eyckmans from Bruges, Martina Březinová from Velká Dobrá and Marten Riedstra from Lemmer will be among the 36 finalists who go on to the World Finals
The World Finals of the Gelato Festival World Masters, the international competition that since 2017 has been traveling the world in search of the best gelato flavors, is approaching. The final dedicated to "Rest of Europe and Mediterranean Area" took place on July 13th and 14th at the Gelato Museum in Italy and was attended by the 28 best gelato shops in 17 countries selected through several events in the last 4 years. The 28 flavors of gelato were evaluated live on the web by a technical jury composed of: Giancarlo Timballo, gelato master and president of the organizing Committee of the Gelato World Cup; Sergio Colalucci, gelato master and member of the organizing Committee of the Gelato World Cup; Mentore Valandro, gelato master and member of the organizing Committee of the Gelato World Cup; Beppo Tonon, gelato master and coach of the Italian Team that won the Gelato World Cup in 2020.
The 3 gelato artisans who have won the competition and who will represent their countries in the World Finals scheduled for December 2021 in Italy are:
Mathieu Eyckmans from the gelato shop Oyya in Bruges (BELGIUM) with the flavor « Gorgonzola Fig », a creamy and savory gorgonzola cheese gelato with a sweet fig coulis;
Martina Březinová

from the gelato shop ŇamŇam in Velká Dobrá (CZECH REPUBLIC) with the flavor "Summer pear", a delicious and fresh pear sorbet (water-based gelato, no milk or cream);
Marten Riedstra

from the gelato shop Ijsslalon Ijskald in Lemmer (THE NETHERLANDS) with the flavor "Sweet & happiness", a yogurt gelato with persimmons and spices.
The event is organized in collaboration with Carpigiani Gelato University, the international gelato school with 20 campuses in 19 countries worldwide, and Sigep, the most important professional trade show in the world dedicated to artisanal gelato, organized by the Italian Exhibition Group.
With regard to Italy, the second semi-final with 76 gelato artisans will take place in September 2021. The Italian Final with sixteen participants is scheduled for October 2021. The World Finals will be held in December 2021. Media partners of the European Finals: Punto IT, Food Professional Network, Gelato Artigianale, Tutto Gelato, Arte Heladero, Przegląd Piekarski i Cukierniczy, Uniteis News.
The Gelato Festival debuted in Florence in 2010, inspired by the creation of the first gelato recipe by the versatile architect Bernardo Buontalenti in 1559. Since then, the event has expanded its borders, first to the rest of Italy, then to Europe and – starting in 2017 – the United States, with a total of 64 Festivals held, before embracing the entire planet with the world championship of Gelato Festival World Masters 2021.