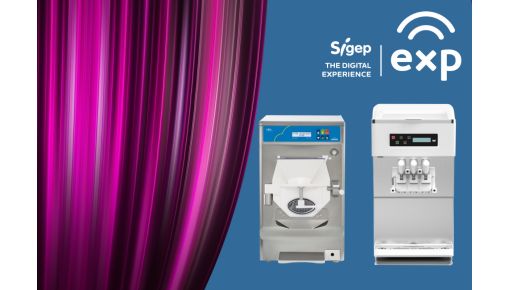 Innovative technology and online training for gelato, pastry and foodservice
At Sigep Exp 2021 - the online edition of the International Exhibition dedicated to gelato, pastry, artisan bakery and coffee – Carpigiani will present the latest technological innovations and training methods for food retail professionals. The virtual portal will highlight 40 products and services made for frozen dessert, gelato, soft serve, pastry and Ho.Re.Ca professionals. It will also host 15 profiles that gelato artisans, pastry chefs, restaurateurs and buyers can access in multiple languages and for various topics. In addition, there will be special events dedicated to technological advances thanks to the experience gained over the past year and after the launch of the Carpigiani Tech News online training portal in January 2021, which has over 50 hours of training and more than two thousand subscribers. Carpigiani Gelato University will also share the advent of the new interactive online learning platforms and the wide range of online webinars rolled out in March 2020.
The first technological innovation focuses on the international trend that is also taking hold in Italy: the centralized laboratory that serves several points of sale. An innovative solution adopted by small entrepreneurs who expand their business by focusing on product quality control. The research path in the Carpigiani laboratories began in 2019 and is completed today with the Bag Filler system including the weighing system and further guarantees of maximum hygiene and safety.
Technological advances for the Gelato laboratory will be presented, such as the Pastomaster 60 HE and 120 HE pasteurizers and the Adaptive Technology range. Each designed to take care of gelato artisans' unique liquid mixtures. Among the improvements made is the transport system of the mixture that allows it to be transferred from the pasteurizer to the aging tank or to other containers, ensuring safety and hygiene.
To complete the range of countertop batch freezers ideal for catering or start up frozen dessert businesses, the Labo 14 20 XPL P guarantees a high performance and production volume suitable for those who want to add frozen desserts to their retail or catering business.
In 2020, Carpigiani responded to the ever-increasing demand for technological solutions and operation management in the soft serve world with particular reference to the international trend of "Premium soft serve" which seeks a high-quality product, strong aesthetic impact and a lot of creativity. This is why we launched the Soft Serve Consulting service able to follow the customer by offering the best and most suitable technological solutions, know-how, creation of exclusive recipes, realization of food design concepts and finally a dedicated consultancy for operation management on one or more points of sale. The first catalogue of the 13 new Nozzles, presented in 2020, is followed by 5 other models that expand the combinations of shapes, tastes and colors for a soft serve creation that can be made even more unique and dedicated to your store or concept. The 243 T, a compact 2-flavor countertop soft serve machine will also be presented. Even more powerful and versatile than the previous model and with high performance during rush moments or in case of high temperatures in the laboratory.
The latest innovation concerns the Blockchain system for "pay per use" systems. This helps entrepreneurs add soft serve into a variety of retail models. A system capable of processing and correlating production data, to ensure that the operator pays in proportion to the actual use. Therefore, using this technology, waste is minimized and costs are correlated with consumption, improving final productivity and efficiency. The 161 T G SP single flavor countertop soft serve machine is added to the range equipped with this system, perfect for small spaces and places such as bars and cafes.
Finally, there will be an area dedicated to Carpigiani Services with a virtual customer care and after sales assistant tasked with illustrating cutting-edge solutions to ensure the perfect functioning of Carpigiani machines throughout their life cycle.