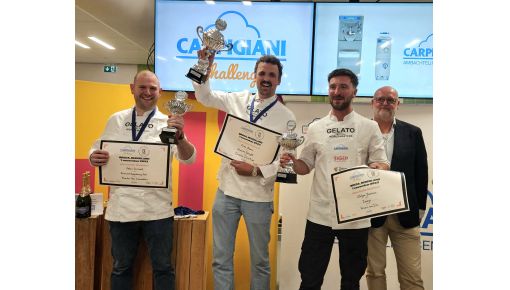 The gelato artisans will go on to the next step of the Gelato Festival World Masters, the world championship in search of the best gelato flavors in the 5 continents
Gelato Festival World Masters, the main category tournament with partners Carpigiani and Sigep - Italian Exhibition Group, is on its new journey around the world for the period of time 2022-2025 searching for the world's best gelato. The first Netherlands' stop was in Breda where 22 gelato artisans took part in the sweetest competition of the year hosted at the Curio Praktijkschool with the collaboration of Carpigiani Benelux Headquarters.
The winning gelato artisans and the best gelato artisans in the Netherlands for 2023 are:
First place
Kees Baars of IJssalon IJsie Prima in Callantsoog with the flavor "Seaside Delight";
Description: A refined mascarpone gelato with sea buckthorn variegato, salted almond crunch and samphire & seaweed meringue on top
Second place
Stefan Beerens of Kennis van IJs in Duizel with the flavor "Imagi";
Description: A blend of fresh pineapple and yuzu coupled with basil-infused coconut gelato; "Imagi" means Imagine in Japanese
Third place
Peter ter Laak of Van der Poel ijsmakers in Hengelo with the flavor "Rose and Raspberry Fool";
Description: A delicate rose-flavoured Greek yogurt gelato with raspberry variegato, roasted almonds, coconut flakes and a touch of lime
The selected gelato artisans will go on to the European Finals of Gelato Festival World Masters scheduled for 2025. Flavor, structure, creativity and presentation are the four parameters used for the evaluation, highlighting the choice of ingredients, the craftsmanship in elaborating the recipe and the visual impact of the gelato (see below the full list of participants).
The jury was composed of:
• Marcel Janssen: Owner of IJssalon Florance in Weert. Won this year's best Gelateria in the Nederlands
• Peter Remmelzwaal: Pastry chef, member of the Dutch Pastry Team
• Nelson Tanate: Owner and chef of the three-starred restaurant De Librije in Zwolle
• Remco Dekker: Chocolatier and Chef Patissier at Atelier Maré, Breda
Gelato Festival debuted in Florence in 2010, inspired by the creation of the first gelato recipe by the versatile architect Bernardo Buontalenti in 1559. Since then, the event has expanded its borders, first to the rest of Italy, then to Europe and – starting in 2017 – the United States, with a total of 80 Festivals held, before embracing the entire planet with the world championship of Gelato Festival World Masters 2021, which concluded in December 2021 - with the victory of Adam Fazekas from Budapest - and saw a record of 3,500 gelato artisans judged by international juries.
GELATO FESTIVAL WORLD MASTERS
Netherlands Challenge
November, 7th 2023
Breda
List of the other participants:
• Menno Uringa of Sjamaan in Culemborg with the flavor "Vrede: bannaan-saffraan";
• Geert Willems of IJssalon Il Circo in Helmond with the flavor "Van Duynhovens nougatine";
• Beate Bikara of Icepoint Susteren in Susteren with the flavor "Coffee Break";
• Niek Bogers of Scoop ice-cream in Etten-Leur with the flavor "Sicilian wedding/matrimonio siciliano";
• Marc Bierkens of 'T ijsboerinneke in Moergestel with the flavor "Tira-miso";
• Jacinta Wijkhuys of De Koehoorn ijsboerderij in Mariekerke with the flavor "Zeeuws goud";
• Max Alkemade of Ijscomax in Noordwijk with the flavor "Max-a-damia";
• Coco Strijbosch of IJssalon Pisa in Zevenaar with the flavor "Spicy Cosy Orange Christophe";
• Allan Horst of Restaurant de Groene Lantaarn in Staphorst with the flavor "Zuring";
• Lorenz de Groot of Lorenzo's Ijssalon in Utrecht with the flavor "Tonka Wonka";
• Matthijs Bollen of IJs van Matthijs in Leiden with the flavor "Spicey Caffeine Kiss";
• Arjan Nijenhuis of Nijenhuis ijs in Lemele with the flavor "Suprice";
• David Zilli of Gelateria Davide in Den Bosch with the flavor "Pavlova";
• Peter ter Laak of Van der Poel ijsmakers in Hengelo with the flavor "Rose and Raspberry Fool";
• Rian Fabrie of Ijsboerderij Fabor in Reusel with the flavor "Fram-Gusto";
• Yoes Vossen of IJskeuken Kennis van IJs in Duizel with the flavor "The Goosebump";
• Stefan Beerens of Kennis van IJs in Duizel with the flavor "Imagi";
• Marten Riedstra of IIskald in Lemmer with the flavor "Verde e Giallo";
• Jean-Pierre Bax of Luciano Ice Cream Factory B.V. in Wassenaar with the flavor "Homage to Ferrero Rocher";
• Kees Baars of IJssalon IJsie Prima in Callantsoog with the flavor "Seaside Delight";
• Jan Nagelkerke of Maddey's ijs in Etten Leur with the flavor "Crompouce";
• Domingo Tol of Ijs Van Do in Volendam with the flavor "A Chocwork Orange";