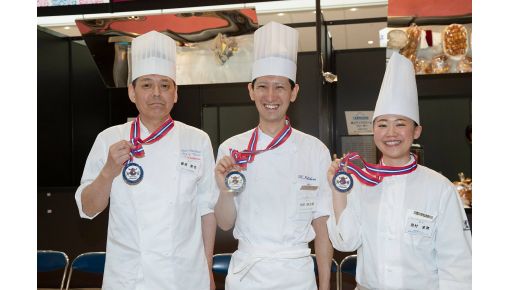 On April 17th (Wed)-18th (Thu) at FABEX's "The 16th Dessert, Sweets & Bakery Exhibition" 's Special Exhibition Venue has been hold the contest "13th Assiette Dessert Contest with Ice Cream" organized by All Japan Confectionery Association and Japan Food Newspaper. Carpigiani Japan is Special Provider of the event.
In this contest participants compete in Pastry Art by preparing a one-dish dessert, the composition must include also a frozen dessert.
The judge's evaluation of the beautiful compositions is based on flavor, design & balance : more points are assigned to the plate that includes perfectly all of them. The eyes of pastry & frozen dessert industries are looking at this match between chefs that qualified from all over the country.
The images below show the first three awarded chefs' plates. (Image provided by: All Japan Confectionery Association)
First place: Kentaro Ichihara (Hotel Granvia Osaka) "Oleee of Passion! ~let's think of Flamenco~"
Second place: Naoya Fujiwara (Hotel Nikko Himeji) "triangle balance"
Third place: Shina Tamura (Co., Ltd. Hoshino Resort Karuizawa Brenz coat) "Visite d'autonne"